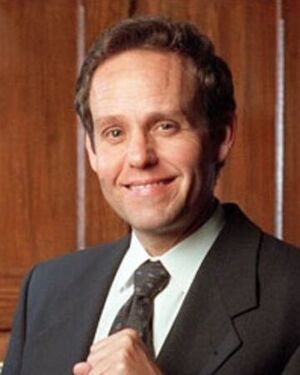 Peter MacNicol (born 10 April 1954) is an American actor and voice actor. He received a Theatre World Award for his 1981 Broadway debut in the play Crimes of the Heart. His film roles include Galen in Dragonslayer, Stingo in Sophie's Choice, Janosz Poha in Ghostbusters II, and David Langley in Bean.
MacNicol won the 2001 Primetime Emmy Award for Outstanding Supporting Actor in a Comedy Series for his role as the eccentric lawyer John Cage in the FOX comedy-drama Ally McBeal. He is also known for his television roles as attorney Alan Birch in the medical drama Chicago Hope, Tom Lennox in the sixth season of action-thriller 24, as physicist Dr. Larry Fleinhardt in the CBS crime drama Numb3rs, Dr. Stark in Grey's Anatomy, Jeff Kane in the political satire series Veep, Doctor Octopus in The Spectacular Spider-Man, and Nigel the Advisor in Tangled: The Series.
Ookiness
MacNicol played camp organizer Gary Granger in Addams Family Values.