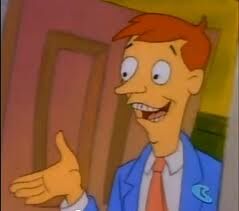 Norman Normanmeyer is the husband of Normina and the father of N.J. Normanmeyer.
He and his family live next door to the Addamses. He hates them for their weird lifestyle and he hates Uncle Fester most of all. Norman is the CEO of an underwear company named Normanwear. His rival is called Rumpco. In his own musical episode called "King of the Polycotton Blues", Norman sings about his hatred of the Addams. Norman and Normina just want the Addams to be normal.
In the episode "Puttergeist", his grandfather started the legend of Puttergeist. When people didn't believe him, he created the costume and then later handed it to his son who eventually passed it down to Norman Normanmeyer. Although he claims that he kept the legend going because it meant so much to his son N.J and because it was a family tradition, it is implied that the benefit of people having to buy new underwear certainly didn't hurt.
Appearances
The 1992 animated series:
Background
He was voiced by Rob Paulsen.