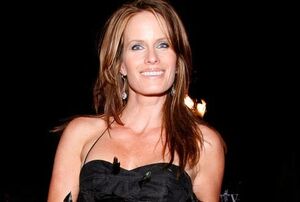 Monika Schnarre (born 27 May 1971) is a Canadian model, actress, and television host. She is reportedly 6'1" tall.
In 1986, at age fourteen, Schnarre won the Ford Models "Supermodel of the World" contest, becoming the youngest model to ever win. She appeared on the cover of American Vogue at fourteen and in the Sports Illustrated Swimsuit Issue at fifteen. In 1989, she wrote a book about her modeling experiences titled Monika: Between You and Me.
She became an actress, appearing in over fifty film and television roles including The Bold and the Beautiful and Beastmaster, and made guest appearances in Beverly Hills 90210, Andromeda, Caroline in the City, The King of Queens, and Cracked. Schnarre has also made a number of movies, with roles in Love on the Side, Waxwork II: Lost in Time and Junior. She played Oxanna Kristos in the video game Command & Conquer: Tiberian Sun.
Ookiness
Schnarre appeared in two different episodes of The New Addams Family, one as Melinda Carver in "Fester's Punctured Romance" and as the Rocket Woman in "Fester, Marriage Counselor".