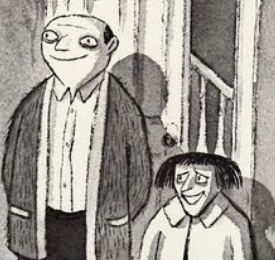 This mismatched couple are relatives of The Addams Family.
the couple visited the Addams Family, in the original Charles Addams comics. In one of their many comics, Grandmama visited their new two-headed baby saying, "I think he looks a little like both of you."
The wife has a flat head and chopped hair, and the husband has a bald head and wide-set eyes. The husband has a buttoned up shirt with a fur like jacket. The wife has an over coat with boots.
They also appear in The Addams Family (2019).