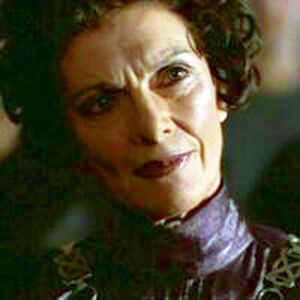 Marion Eisman is a Canadian actress. Born in South Africa, she attended the University of Cape Town as a drama major, and immigrated to Canada with her husband and baby.
She has appeared in film and television programs such as:
Andromeda (TV Series) as Olma
The L Word (TV Series) in the 2004 episode "Lies, Lies, Lies"
Supernatural (TV Series) in the 2016 episode "Alpha and Omega" as Anna
Murder, She Baked (2015/16 TV Mini-Series) as Mrs. Norton
Everything, Everything (2017) as Nurse Janet
A Series of Unfortunate Events (TV Series) in the 2018 episode "The Ersatz Elevator: Part Two"
Motherland: Fort Salem (TV Series) as the Biddy
DC's Legends of Tomorrow (TV Series) in the 2020 episode "The Great British Fake Off" as Mrs. Hughes
Away (TV Series) as Miriam Weisberg
Riverdale (TV Series) as Doris Bell
Ookiness
Eisman played Mrs. Dorothy in The New Addams Family episode "Morticia, the Breadwinner".