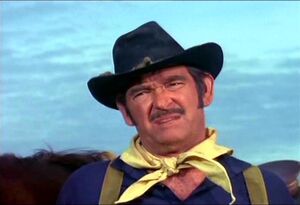 Ken Mayer (25 June 1918 – 30 January 1985) was an American actor. He is best known for his portrayal of Major Robbie Robertson in the 1950s television series Space Patrol.
Mayer appeared in the films Ambush at Cimarron Pass, The Miracle of the Hills, Frontier Uprising, Gun Fight, You Have to Run Fast, The Clown and the Kid, Jack the Giant Killer, Black Gold, Spencer's Mountain, The New Interns, Bonnie and Clyde, The Last Challenge, and Little Big Man.
Ookiness
Mayer played Sergeant Roger in The Addams Family episode "Gomez, the Cat Burglar".