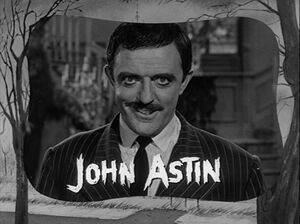 John Allen Astin (born 30 March 1930, Baltimore, Maryland) is a veteran TV and film actor and comedian. His film and television career spans seven decades.
He starred in many of the most memorable television series of the 1960s and 1970s including I'm Dickens, He's Fenster, The Flying Nun, Gunsmoke, Night Gallery, Operation Petticoat, and Batman. He also had a recurring role in the NBC sitcom series Night Court in the 1980s, where he appeared as Buddy Ryan, Jugde Harry Stone's biological father. In the 1990s, he voiced Bull Gator in Taz-Mania.
On film, he is best known for his roles in West Side Story, Freaky Friday, European Vacation, and The Frighteners.
Personal Life
He was married to Suzanne Hahn (1956-1972), Patty Duke (1972-1985), and Valerie Ann Sandobal (1989-present).
Ookiness
Astin originated the role of Gomez Addams in The Addams Family. He reprised the role in The New Scooby-Doo Movies episode "Wednesday Is Missing", the television special Halloween with the New Addams Family and the 1992 animated series.
Additionally, in The New Addams Family, Astin played Grandpapa Addams.