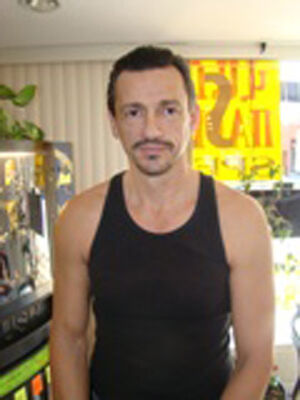 Joe Zimmerman (born 2 November 1963) is an Iraeli-American actor, stuntman, stand-in, and cameraman.
He is known for his work in Jurassic Park as Jeff Goldblum's stand-in, Beverly Hills Cop III as Timothy Carhart's stand-in, and Force of the Spirit (2005 documentary) were he worked as a cinematographer.
One of his appearances is the 1991 TV film White Hot: The Mysterious Murder of Thelma Todd, where he plays Thelma Todd's killer, even though her death has been ruled an accidentally carbon monoxide poisoning.
Ookiness
Zimmerman played Long Arm Addams in the 1991 film The Addams Family.