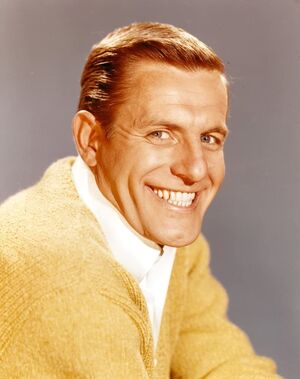 Jerry Van Dyke (27 July 1931 – 5 January 2018) was an American actor, musician and comedian. He was the younger brother of Dick Van Dyke.
Van Dyke made his television acting debut in The Dick Van Dyke Show with several guest appearances as Rob Petrie's brother Stacey. While his infrequent starring roles were typically in poorly received sitcoms (My Mother the Car, one of the shows where he was the lead actor, is considered one of the worst sitcoms of all time), he enjoyed a long and successful career as a character actor in supporting and guest roles. From 1989 to 1997 he portrayed Luther Van Dam in Coach.
Ookiness
Van Dyke played the burglar in the first episode of The New Addams Family.