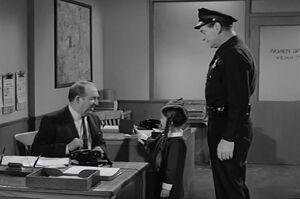 Homer is Wednesday Addams's pet spider which she keeps in a box.
History
Morticia disallowed Wednesday to play with Homer after she used Uncle Fester's dynamite instead of her own. This bothered Wednesday and she hid in Pugsley's room, which led her parents to believe she ran away. She later did run away, bringing Homer with her. When a police officer found her and brought her to the station, she showed Homer to the detective, who called her house and described her as having "long braids and a spider in a box."[1]
Wednesday wrote and recited a poem about him.[2] She says he makes a groovy yo-yo.[3]
It is once mentioned that Pugsley has a cheerful pet spider named Homer, though it in unclear whether this is the same spider.[4]
Appearances
The Addams Family original series episode:
The New Scooby-Doo Movies episode:
Mentioned In
The Addams Family original series episode:
Gallery
References
Community content is available under
CC-BY-SA
unless otherwise noted.