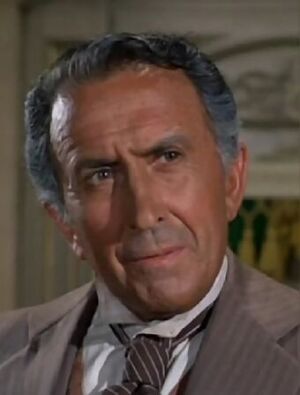 George O. Petrie (16 November 1912 – 16 November 1997) was an American radio, film, and television actor.
Petrie started in radio drama, including playing the title roles in Charlie Wild, Private Detective and in The Adventures of the Falcon. He played Bill Grant in Call the Police and appeared in programs such as the syndicated horror program Murder at Midnight in 1947. as well as the recurring role of DA Markham in the syndicated Philo Vance radio series from 1948–1950.
He starred in a few movies such as:
Gypsy (1962) as George
Hud (1963) as Joe Scanlon
The Other Side of the Mountain Part 2 (1976) as Doctor in Los Angeles
Planes, Trains and Automobiles (1987) as Martin
Ookiness
Petrie appeared twice in The Addams Family in two different roles, first as Dr. Harold Black in "Morticia and the Psychiatrist" and last as Dr. Jonley in "Happy Birthday, Grandma Frump".
Community content is available under
CC-BY-SA
unless otherwise noted.