Jurassic World: Dominion Dominates Fandom Wikis - The Loop
Play Sound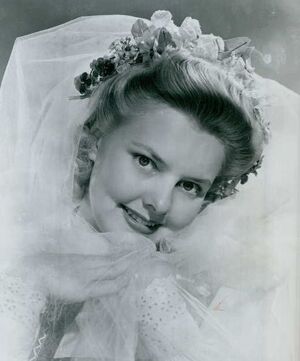 Elisabeth Fraser (8 January 1920 - 5 May 2005) was an American actress. She is best known for playing brassy blondes.
Fraser began her acting career six weeks after graduating from high school; she was cast as the ingenue in the Broadway production of There Shall Be No Night, which won the Pulitzer Prize for the 1940-1941 season. Fraser obtained a contract with Warner Brothers studios. She appeared in dozens of films.
One of her first roles was in The Man Who Came to Dinner as June Stanley, the young daughter of the Ohio couple forced to put up with Monty Woolley, who tells her to follow her heart to the man she loves, a trade unionist in her father's company, regardless of her father's feelings. She also appeared in All My Sons, Roseanna McCoy, and So Big.
Her most notable role was as Shelley Winters' character's friend in the 1965 hit film A Patch of Blue. She also played in the movie Ask Any Girl as Jeannie with Shirley MacLaine. Fraser's stage career spanned over three decades and included Broadway productions of The Best Man, The Family, and Tunnel of Love, in the 1958 film version of which she also appeared.
Ookiness
Fraser played Madelyn Smith in The Addams Family episode "Uncle Fester's Toupee".