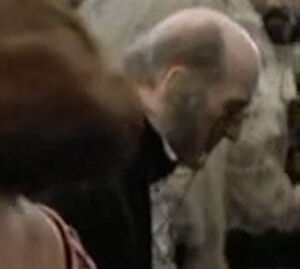 Cousin Slosh is a relative of The Addams Family.
He went down the city sewer in a "fit of pique" and completely disowned the family. "Made a whole new life for himself," said Gomez.[1]
He is a great, fat, toad-like man who made many a killing in Wall Street, and is the husband of Lois Addams.[2]
Appearances
The feature film:
Mentioned In
The Addams Family original series episode:
Background
In the film, Slosh was portrayed by Richard Korthaze.
References