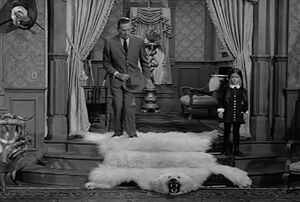 Bruno is The Addams Family's polar-bearskin rug.
He often growls at people who walk on him.
Appearances
Though he appears in most episodes as mere decoration, he is given more screen time in:
The Addams Family original series episodes:
The feature film:
The New Addams Family episodes:
He also appears on the table of The Addams Family pinball game, and he growls when you "kick" him.
Mentioned In
The Addams Family 1973 animated episode:
Gallery
Community content is available under
CC-BY-SA
unless otherwise noted.