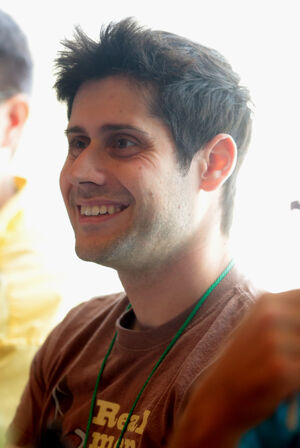 Benjamin Diskin (born 25 August 1982) is an American voice, film, and television actor. In 1993, when Diskin was ten years old, he provided the voice of Junior Healy in the USA Network animated series Problem Child. He would later voice characters in animation, such as Eugene in Hey Arnold!, Numbuh 1 and Numbuh 2 in Codename: Kids Next Door and Eddie Brock / Venom in The Spectacular Spider-Man. In anime, he voices Sai in Naruto: Shippuden, Shoutmon and Cutemon in Digimon Fusion, Joseph Joestar in JoJo's Bizarre Adventure, Ban in The Seven Deadly Sins Haida in Aggretsuko, and Jack in Beastars. In video games, he voices Young Xehanort from the Kingdom Hearts series, Jared Miller in Halo 4 and Mega Man in Mega Man 11.
Diskin has also appeared in The Wonder Years, Disney's Recess, Mr. Saturday Night, Baby Boom, and Just Like Dad. He voiced Hahn in Avatar: The Last Airbender and Eddie J. Squirrel in Squirrel Boy. He played Kai Miyagusuku and Katao in Blood+. He voiced the Disney character Stitch in the English versions of Stitch! and Stitch & Ai, taking over from the character's creator and original voice actor Chris Sanders. In 2018, he voiced Haida in the English dub of the Netflix original series Aggretsuko.
Ookiness
Diskin voiced a background character for the 2019 animated film.
Community content is available under
CC-BY-SA
unless otherwise noted.