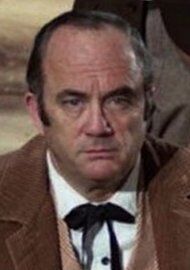 Bart "Buzz" Greene (14 April 1914 - 22 March 1985) was an American actor and comedian.
He appeared in film and television shows such as:
I Dream of Jeannie (TV Series) in the 1966 episode "The Girl Who Never Had a Birthday: Part 2" as Ben Franklin
Charro! (1969)
The Virginian (TV Series)
Alias Smith and Jones (TV Series) in the 1971 episode "Stagecoach Seven" as the stationmaster
Bonanza (TV Series)
Columbo (TV Series)
Kojak (TV Series)
Kolchak: The Night Stalker (TV Series) in the 1974 episode "Bad Medicine"
Gunsmoke (TV Series)
All the President's Men (1976)
Charlie's Angels (TV Series)
The China Syndrome (1979)
The Concorde... Airport '79 (1979)
The Incredible Shrinking Woman (1981)
Voyagers! (TV Series) in the 1982 episode "Cleo and the Babe"
Scarface (1983)
Murder, She Wrote (TV Series) in the 1985 episode "Footnote to Murder"
Fletch (1985)
Ookiness
Greene played the 2nd workman in The Addams Family episode "Gomez, the People's Choice".