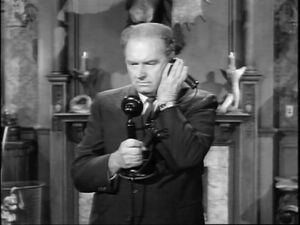 Arthur J. Henson is an acquaintance of The Addams Family.
He was the manager of the Arthur J. Henson Insurance Agency, a franchise of Excelso-Fidelity Insurance. However, when he wanted to cancel Gomez Addams' insurance policy, he called the owner of the company, who turned out to be Gomez. Gomez then promoted one of Henson's agents, Horace Beesley, to be Henson's new boss.[1]
Later that year, Henson was put in charge of the bazaar that Morticia's favorite charity ran annually. Knowing the Addams' taste, he was loathe to accept donated items from them. However, Mrs. Atherton made him take such items as one of Cleopatra's baby strangler plants, a Mary Queen of Scots doll, Dr. Livingston's shrunken head, and a Wolf's Head Clock, which eventually fetched $1100 at auction.[2]
Soon thereafter, Henson was made city Commissioner, and he condemned The Addams Family Mansion to build a freeway. Gomez buys a new plot to which he'll move the house, but when Henson learns it's the plot next to his own house, he changes the freeway plans and cancels the condemnation.[3]
Eventually Henson becomes mayor, but when Gomez feels insulted by his response to the Addams' low tax bill, he runs against him. Henson seems destined to lose, until Gomez is disqualified on a technicality.[4]
He and his wife, Charity, are neighbors of The Addamses. When Pugsley and Wednesday look for work, Henson exploits them to clean his house and car for a pittance. Gomez says at this point Henson is in property management. Henson is dissatisfied with the children's work and threatens to sue, until Gomez threatens to counter-sue. He doesn't want to go to court, and explains that he really wants to sell his house, so Gomez agrees to buy it.[5]
Henson returns to the insurance business, this time managing Double Indemnity Insurance Company. When the Addamses file a claim for their burnt Bear, he scolds his clerk, Joe Digby, for not having cancelled their policy like he asked. He asks the family to re-enact the accident, so Fester tries to light a cigar in Henson's mouth. Henson fires Digby and tears up the policy. When Gomez opens an insurance company in Digby's name, he returns in disguise to investigate it. Fester gives him a medical exam that almost breaks his leg. Grandmama uses her crystal ball to work out his life expectancy and reveals his true identity. Gomez threatens to remove all his companies' insurance from Henson's firm, and Henson is faced with the staggering loss has to back down and rehire Digby. Henson manages to replace the bear by hunting one in Alaska, but is caught in an avalanche and winds up in traction in the Seaside Hospital in Anchorage.[6]
Appearances
The Addams Family original series episodes:
Gallery
Background
He was portrayed by Parley Baer.
References
Community content is available under
CC-BY-SA
unless otherwise noted.