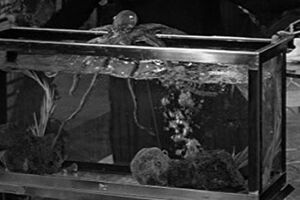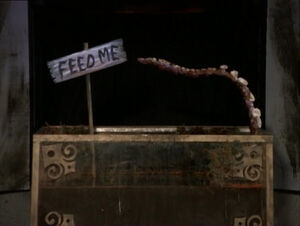 Aristotle is Pugsley Addams' pet octopus.
History
When Pugsley joins the Scouts, he begins to neglect Aristotle. [1] When noise keeps him awake, he gets rings under his tentacles. [2] While Gomez washes Aristotle in a tub in the yard he tells the neighbors that he's friendly. [3] Gomez says of Mother Lurch "Anyone who'd hate an octopus is warped," when she tried to feed him to Cleopatra.[4] Morticia knitted him a sweater,[5] and is later seen knitting similarly shaped sweaters presumably for him.[6][7] When he gave Pugsley's teacher a hug, she was so flustered that she rang the fire alarm. "He's such an affectionate creature," says Morticia.[8] She once asked Lurch to milk him.[9]
When Uncle Fester was spoiling Pugsley, he forgot to feed him and Morticia said he was nothing but skin and beak.[10]
Sometimes, Aristotle hides under Pugsley's bed. [11]
Appearances
The Addams Family original series episodes:
The New Addams Family episode:
Mentioned In
The Addams Family original series episodes:
The New Addams Family episode:
Gallery
Notes