Welcome, you're in for a scream
The Addams Family Wiki

Addams Family Wiki is a collaborative website about The Addams Family and it's creator, Charles Addams. The wiki format allows anyone to create or edit any article, so we can all work together to create a comprehensive database for Addams fans. Check out the FAQ to help you get started!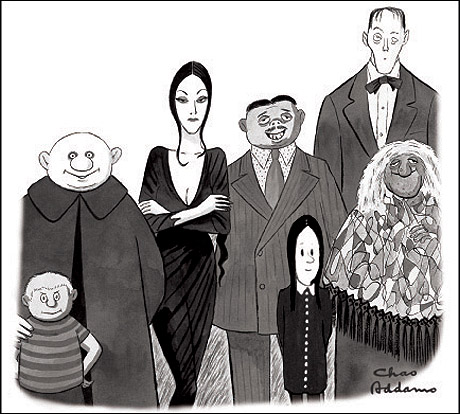 "Gomez and Pugsley are enthusiastic. Morticia is even in disposition, muted, witty, sometimes deadly. Grandmama is foolishly good-natured. Wednesday is her mother's daughter. A closely knit family, the real head being Morticia—although each of the others is a definite character—except for Grandma, who is easily led. Many of the troubles they have as a family are due to Grandma's fumbling, weak character. The house is a wreck, of course, but this is a house-proud family just the same and every trap door is in good repair. Money is no problem."
-Charles Addams, The Addams Family Evilution.
User Blogs

Paige EM
•
Addams home-schooling lessons:
voo doo...music...binary code...how humans are made...native-American history...reanimation...the Salem witch hunt/trials...torture & execution devices...
Visit our Sister Site